---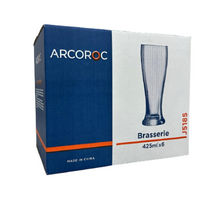 This Arcoroc Brasserie Pilsener Glass 425ml is ideal for any business looking to enhance its beer service. With a capacity of 425ml, this glass is perfect for serving a range of Pilseners, Ales, and Lagers.
Crafted from high-quality materials, the Arcoroc Brasserie Pilsener Glass is designed to withstand frequent use in busy environments. The glass is dishwasher safe, making it easy to clean and maintain. The sleek and elegant design of the glass will complement any table setting or bar area, adding a touch of sophistication to your establishment.
The Arcoroc Brasserie Pilsener Glass features a sturdy base that provides stability and helps prevent spills, making it ideal for use in fast-paced environments. The tall and slender shape of the glass also helps to accentuate the aroma and flavour of your beers, providing your customers with a more enjoyable drinking experience.