---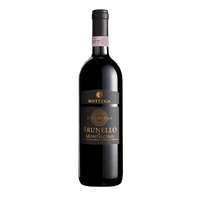 Italy, Tuscany, Red Wine, 14.5% ABV
Brunello di Montalcino is one of the most prestigious Italian wines, well-known all over the world. It is regarded as one of the red wines that most guarantees full longevity in the years. Grapes: 100% Sangiovese.
Colour: A ruby red colour.
Nose: The bouquet is pronounced and very distinguished.
Palate: The palate offers us a dry wine, warm in the mouth, eager to demonstrate it's equilibrity, it all ends in a dominant yet harmonious final.
Food Pairings: Red meat, risotto, tomato based pasta dishes.