---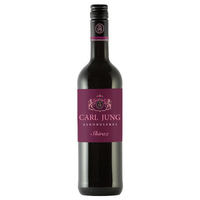 Germany, Syrah, 0% ABV
The European Syrah grape used in this alcohol-free Shiraz produces a much lighter, fresher wine than those created from the baked climate of Australia and South Africa.
Carl Jung Shiraz presents as a bright rubescent wine. The blackcurrant and vanilla aromas come through in the flavour and there's a hint of chocolate and a little pepper. It has light tannins and a pleasantly rounded finish.
It's not a big fat barbecue Shiraz. It pairs better with roast pork or meat pasta dishes.