---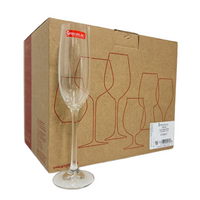 The Champagne flute from the series 'Salute' embodies and fulfils all the expectations one could have of a Champagne glas. The elongated chalice makes up almost one half of the total height. Therefore rising carbon bubbles can be observed for a long time in the glass. The brilliant crystal glass used only supports the above. The sparkling wine glass can easily be combined with the other stemmed glasses from the 'Salute' series by Spiegelau or other timelessly classic glassware.
This champagne flute from the 'Salute' series has a classical timeless shape and comes to an overall height of 24,5cm. The delicate chalice of the Champagne glass alone takes up the upper half of the glass. Therefore and due to the brilliant crystal glass, rising carbon bubbles can be observed from the outside.
For guests or for private sparkling wine enjoyment the Champagne flute satisfies all demands and can always be accompanied by other traditional glassware.