---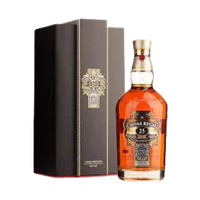 Scotland, Scotch Whisky, 40% ABV
Awarded 95 points in the 2010 Whisky Bible, Jim Murray rated this his Scotch Blend of Year in the 18 years and over category. Chivas Regal 25 year old is a delicious blend, with notes of peach and almond.

Nose: Rich, nutty and thick with notes of malt and berry fruits, hints of liquorice, raspberries and sweet porridge oats.
Palate: Soft and gentle but it builds with an elegant toffee-like character, very butter. Hints of boiled sweets, aniseed and custard.
Finish: Abrupt, but earthy, with butterscotch on the tail.