---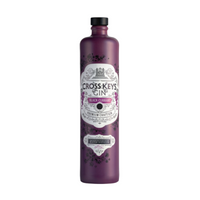 Latvia, Gin, 38% ABV
Cross Keys Gin with a blush of black currant pleases the taste buds with a palette of northern summer flavours and light sweetness for easy enjoyment. We recommend to try it with two parts of tonic water and just one or two ice cubes. No need for garnishing – enjoying pink Cross Keys Gin simplicity is the key.

ROSEMARY
A thread of rosemary aromatic oil balances the taste, bringing together a whole variety of herbal flavours
JUNIPER
Juniper's essential taste of wilderness is the age-old signature of traditional gin.
BLACK CURRANT
Juicy black currant pearls adorn the original gin with charming, well-rounded mellow sweet flavours and delicate purple blush.
CAMOMILE
Well known for its curing and soothing properties, chamomile enriches the taste with familiar bitter notes and soothing dry nectar.
LINDEN BLOSSOMS
The sweet taste of honey and warming properties of linden blossoms will recall your sweet memories of the last summer.