---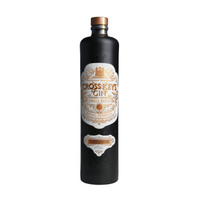 Latvia, Gin, 41% ABV
The unique aroma and structure of Cross Keys Gin is based on the symmetric interplay of four key ingredients:
ROSEMARY
A thread of rosemary aromatic oil balances the taste, bringing together a whole variety of herbal flavours.
JUNIPER
Juniper's essential taste of wilderness is the age-old signature of traditional gin.
CAMOMILE
Well known for its curing and soothing properties, chamomile enriches the taste with familiar bitter notes and soothing dry nectar.
LINDEN BLOSSOMS
The sweet taste of honey and warming properties of linden blossoms will recall your sweet memories of the last summer.