---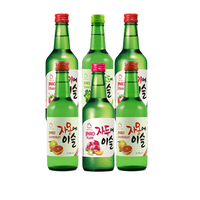 Korea, Soju, 13% ABV
MIX AND MATCH your choice of flavours! Choose from any of these: 1) Green Grape 2) Plum 3) Strawberry and 4) Grapefruit 5) Peach
After adding this bundle in your cart, please click on the cart icon and indicate what flavours you would like under 'Special instructions for seller'.
For example: you can indicate "3x Jinro Green Grape, 3x Jinro Grapefruit" or " 2x of each flavour" or " 2x Jinro Green Grape, 2x Jinro Grapefruit, 1x Jinro Plum, 1x Jinro Strawberry". 
*Kindly indicate the flavours you would like. If not, we will do a random mix for you.
Also known as Korean vodka, it has a very smooth taste. It's a clear distilled liquor made from rice and the most popular type of alcoholic drink in Korea. 

Volume: 360ml