---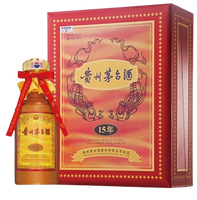 China, Baijiu, 53% ABV
Kweichow Moutai 15 Year Baijiu is a gorgeous expression of classical Oriental style through elegant aroma and rich flavor.
From the village of Moutai in the Guizhou province of China, Moutai has acquired through centuries of transmitting its traditions and refining its craftsmanship a reputation as one of the world's finest spirits.

Vintage Moutai 15 years has fifteen years's storage, carefully blending, special sauce flavor, mellow ripe liquor, pleasant aftertaste, lasting fragrant flavor in the emptied cup.