---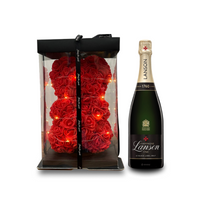 Celebrate Love in Style: Show your love and appreciation for your special someone, and what better way to do that than with a unique and luxurious gift. Our bear-shaped rose and champagne gift set combines two symbols of love and celebration into one amazing package.
The accompanying bottle of champagne adds a touch of luxury to your night! Whether you choose to share it over a romantic dinner or as a toast to your love, this sparkling wine will add a touch of sparkle to your special day.
This gift set comes beautifully packaged, making it a truly special and memorable present. It's the perfect way to say "I love you" and create a lasting memory with your special someone. So why wait? Order your bear-shaped rose and champagne gift set today and celebrate love in style this Valentine's Day!