---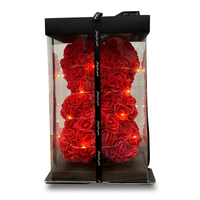 Show your love with this unique and adorable bear-shaped rose. The perfect gift for your sweetheart on Valentine's Day!

The Perfect Blend of Love and Luxury! Show your love in a truly unique and memorable way. This gorgeous rose has been crafted with care and precision to symbolize your love and affection. The delicate petals will bring a smile to your loved one's face and make them feel truly cherished. Whether it's for Valentine's Day, an anniversary, or just to show them how much you care, this bear shaped rose is the perfect expression of love.
Order now and give the gift of love and luxury this Valentine's Day!