---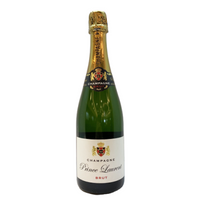 France, Champagne, 12.5
% ABV
If you're looking for a truly special, celebratory bottle, this Prince Laurent Champagne sums up everything we love about bubbly. It's wonderfully fresh with a real palette that's full of fruit. There is plenty of fizz and a wonderful effervescence in the mouth.
And with a clean, zesty finish, it's surely the perfect way to add sparkle to any special occasion.
Pale gold with a hint of green with aromas of ripe stone fruits. The taste shows intense white nectarine and peach with subtly toasty aromas. Well balanced acidity with a lingering creamy finish.
Born into a French royal family in 1735, Prince Laurent developed a passion for wine. In 1758, he used this knowledge to honour his native region by developing this amazing cuvée of 70% Pinot Meunier and 30% Chardonnay. The vineyard situated largely in the Marne region, the most well-known Champagne region of France.