---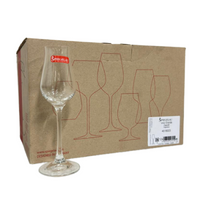 The digestive glass is designed to present the flavors and aromas of fine spirits at its best, making every sip a truly luxurious experience.
Featuring a unique design that allows the drink to be gently swirled, releasing even more of its aroma and flavor. The narrow top of the glass then concentrates these scents, further enhancing your tasting experience.The Specialty collections from SPIEGELAU offer a range of specialized glassware tailored to elevate your drinks.
For your finest spirits and liquers, the SPIEGELAU Special Glasses Spirit range includes customised shapes to complement the characters of your favorite drinks.This product is machine-made. Due to the manufacturing process small tolerances in the measurements are possible.
This item is dishwasher safe.