---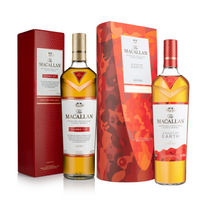 Scotland, Single Malt, 52.5% ABV
Matured in a unique combination of casks with two distinctive wood types, this special single malt exudes flavours of both European and American oak, married together to create a unique tasting experience.

With a distinct grapefruit flavour, this whisky emphasises a wide range and complexity of flavours. The two wood types complement and balance together beautifully and offer an experiential journey through flavour, aroma, colour and texture.
Scotland, Single Malt, 43% ABV
The Macallan A Night On Earth In Scotland is a limited edition single malt that tells a story of New Year in Scotland, reflecting the joy of celebrating special occasions with loved ones. Presented in a unique, multi-layered gift box packaging.